Mawage!
You know the post HAS to be good if it quotes The Princess Bride.
Sorry for the two-week absence. It has been quite a roller coaster of everything. A lot of combating side effects, a lot of introspection (aka excessive thinking), a lot to drain me of any energy I might have left to write. But to quote B-Rabbit...
GUESS WHO'S BACK, BACK AGAIN?
Me! ...as a married woman. That's right, I've got me a husband. 😁😁😁.
Hold on a sec.
Husband husband HUSBAND married husband marry marry HUSBAND husband married married married married MARRIED? Married! Did I really get married? Yes! Okay. Husband married WIFE?! wife wife married husband married wife wife WIFE wife husband MARRIED hell yes.

That is what went through my mind the first time I uttered the H-word. It feels incredible to finally say it. And to see all of these words. I still remember the first time I was introducing Tim. I caught the words before they flew out of my mouth - no, Steph, he is NOT your fiancé. Nor boyfriend. He's "officially" yours, a relationship now bound by law. Whaaaaat.
Note on the pic: if you see to the right of me is my phone on the ground. I had it because Tim and I had written our vows to each other but standing there we decided to just talk to each other. This felt so much better - natural. The photographer later told us she teared when she heard us. She mentioned something I won't go into a whole lot of detail about but the general message was that our moment was a rare one. I know it shouldn't mean a whole lot but it was so nice to hear. I was so happy that it was just the two of us sharing in that moment.
And he is still full of surprises. He had asked me several times if I wanted my wedding band for this elopement. I said no it's okay, figuring we could save that and me wearing white for the "real deal" ceremony. But when it was time to slip the ring on my finger, in addition to the engagement ring, he pulled out a brand new wedding band. It was more than the beautiful band that made me tear, it was just how thoughtful he was. I was already wearing something called the "Love Necklace" that he had bought and surprised me for Vday. My mom and sister told me how he had planned weeks in advance to surprise me. Well, he did it again. It made me feel so cared for.
I thought I had been sneaky when I put together a book of the post-its we'd written each other these last couple of years to surprise him. He beat me to the punch, dammit! (But it's a "loss" I'll take anyway hehe.)
Turns out.. we are the first to get married at this beautiful property in the many decades it has been there... outside of the property owner's family. The mom got married there 30 years ago and then... us. It feels so special to have discovered this beautiful, secluded place. Now we're getting questions about where it is so others can get married there, too!
Does being married feel different day to day? Not really. We were already living together (gasp) in our now-beautiful home (renovations are officially over - WOOHOO!!!), but there are moments where we will look at each other and smile, exposing the cheeseballs we are. It's in those little exchanges how clear it is that we share the same ridiculous starburst of excitement to know that we have "officially" committed ourselves to the other for the rest of our lives.
I use quotes because I fully recognize that having the government officially legitimize your relationship doesn't make any relationship outside of those legal terms any less legitimate. A piece of paper and some benefits do not a "real" relationship make. But this is a heavily personal decision. For others, like me and the mister (and yes I used "me" properly there), it means a lot to finally commit to one another in this way.
But it wasn't easy getting here.
TAKING IT ONE STEP AT A TIME...
That has been my biggest lesson learned in my cancer journey/battle/whatever you want to call it. If I think too far ahead, I break down. And not even that far ahead - just thinking beyond whatever I'm dealing with on the same day risks the unfurling of all pent up emotions.
I had to apply this to our plans to elope. We are still celebrating with our SF ceremony after my chemo is done but we decided not to let the cancer dictate what we had planned. I was feeling so disappointed that our wedding was getting delayed but Tim reminded me that we had options. What if we got married anyway, just the two of us? What brilliance.
I'd get two weddings instead of one ;).
We decided to "elope" at a place special to us, that harbors a lot of fond memories from when we first started dating. Post Ranch Inn in Big Sur is where he took me on a getaway when we were shifting from self-dubbed "SF BFFs" to possibly something more. That "more" turned out to be a whole lot haha. Tim and I aren't really the fancy getaway types- we prefer chilling at home or hanging with friends at their homes (game nights, anyone?!) but it does make staycations very special. This would be a return to relive the beauty of the Big Sur Coast and relish in just how far we have come since then. An unforgettable weekend, part two. (Here are pics from our first trip!)
Just a few days before we were supposed to head south, I got a call from PRI: everything was canceled. The recent deluge of rain damaged one of the bridges connecting Big Sur to the north. The result would be a six-month closure of that bridge. I was devastated.
Tim had planned the PRI portion. I decided I would try to come up with the best Plan C I could. I was skeptical anything could compare to what would have happened in Big Sur, but I went ahead anyway.
What we found is what Tim would call serendipity. I know no other word to describe our special weekend. We switched our plan to Carmel but all hotels were booked up - there and everywhere nice around the area. But a rare find on Airbnb saved the day. The property sits on the highest point of a hill, offering an even more gorgeous view of the Pacific than two booked-up hotels on the same road. We had actually planned on getting married at a nearby beach, a popular wedding spot, but when we drove up to the house our minds were instantly changed.
"Here. Let's get married here." - Tim
Read my mind.
So in the end it was the two of us, an officiant, and a photographer. Two beautiful ladies who helped make our moment so - dare I say it? Yes. Magical. He planned special dinners including a private chef who cooked for us. We stayed in and watched NBA, listened to music, talked about life and also went out and explored beautiful places. We were very true to us... a fitting way to kick off our lives as husband and wife.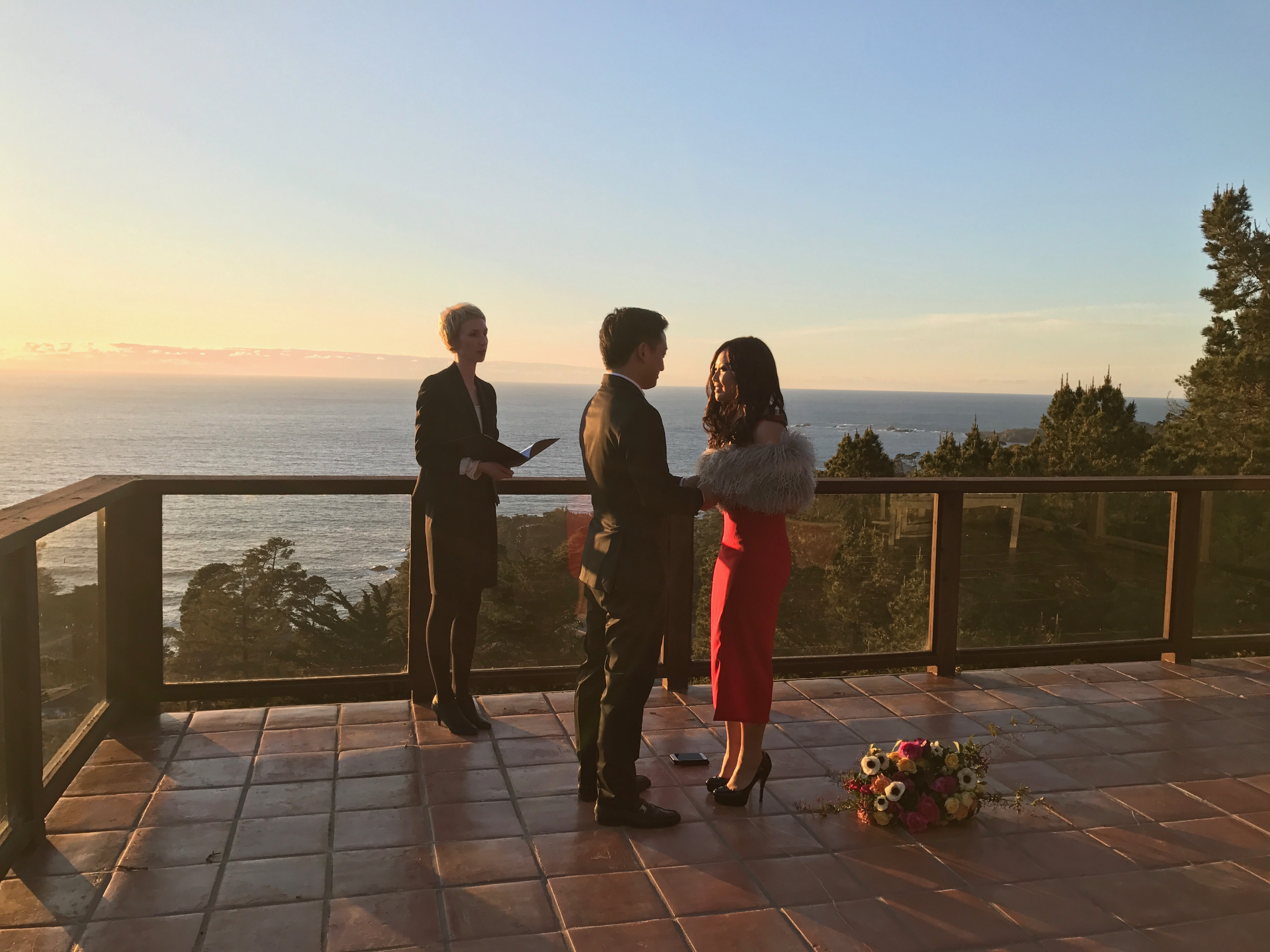 Those last pictures of sushi were taken at one of our favorite omakase places because it's close to our house. We walked in for Sunday dinner. A few minutes later we heard, "Tim? Stephanie?" We turned around and there was my sister and her friends haha! Such a wonderful way to cap off the weekend, and fitting too with it being such a pleasant surprise. Serendipity!
Before I move on... I have to finish that hail to The Princess Bride.
The Impressive Clergyman: Mawage. Mawage is wot bwings us togeder tooday. Mawage, that bwessed awangment, that dweam wifin a dweam… And wuv, tru wuv, will fowow you foweva… So tweasure your wuv.
Prince Humperdinck: Skip to the end.
The Impressive Clergyman: Have you the wing?
Love :).
UP AHEAD...
The hot flashes. The random bruises. The endless waterfall of pills down the throat. It all sucks, and those are just Class B of pains to the real symptoms of the chemo. But what I'm trying my best to apply is that positive attitude I keep talking about. There are plenty of days when that just seems so unbearable and I want to just embrace the negativity, so I do. Then move on.
Ok... I'm starting to feel the fatigue right now. I started round three of chemo Wednesday and this regimen is more strong than the last round. R-EPOCH chemo is one of the most aggressive out there, especially when dose-adjusted which is what I'm undergoing. You get your blood drawn in the two weeks after the chemo is done to see how your body is responding. If you do okay, the doctor will increase the dosage of the chemo the next round. It's an effort to be most effective by pushing you to the limit. In terms of killing the cancer, that's great. I know that's the grand prize but it makes the side effects more unbearable.
But after this round, I'll be halfway done. Let's do this!
Big hugs,
Steph
#spicystrong
PS - there was one other hiccup: the off-white dress I wanted to wear didn't look the way I wanted so I had to ditch the idea and decided on going with the red dress. Bestie Christine not only loved the look, she reminded me that the red was symbolic of #spicystrong. I couldn't agree more :).